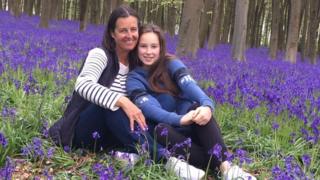 Alison Farmer was diagnosed with ovarian cancer at the age of 40. Luckily, it was caught early. Here's the story of how she recovered – and went on to have her daughter.
"I'd had a little bit of mid-cycle bleeding – which isn't one of the most common symptoms. That was all I had.
"The GP said that all women get it. But it wasn't normal for me – and I think it's really important that any gynaecological symptom should be followed up if it's not normal for the woman."
She was referred for a hysteroscopy test to check her uterus and an ultrasound – and that found a cam growth. It was graded as a 1C – an early stage of cancer.
Alison, who now works as a psycho-oncology nurse specialist, says it was only because she was "a nurse and quite assertive" that she felt able to push for tests.